The time has come to present selections from our favorite albums of 2014. We hope you enjoy this look back on some of the year's best Future Music!
There were many highlights over the year, and we'd like to thank WCRS for their continued support as well as our listeners in Columbus, Bali, and beyond!
Below we have included 10 consensus favorite album picks, as well as our individual favorites of the year. We encourage you to send us your own picks and recommendations to dj@beatoracle.net. On December 27th we'll be airing part two of our best of 2014 special, and will feature our favorite singles, EPs, and one-offs. Thanks again to our listeners as we wrap up our seventh year on the air in Columbus!
10 BEAT ORACLE APPROVED: 2014 Edition (Alphabetical)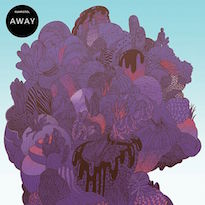 (from top left) Aphex Twin Syro, Eno/Hyde Someday World/High Life, Grenier meets Archie Pelago Grenier Meets Archie Pelago, Chihei Hatakeyama + Hakobune It Is, It Isn't, Objekt Flatlands, Rain Dog Two Words, Rumpistol Away, Segue The Here and Now, Teebs Estara, Yagya Sleepygirls
Joseph's Favorites
01. Yagya – Sleepygirls
02. Aphex Twin – Syro
03. Chihei Hatakeyama + Hakobune – It Is, It Isn't
04. Grouper – Ruins
05. Otto A Totland – Pino
06. Teebs – ESTARA
07. Segue – The Here and Now
08. Taylor McFerrin – Early Riser
09. Grenier meets Archie Pelago – Grenier meets Archie Pelago
10. Machinone – Tokyo
Kenny's Favorites
01. Grenier meets Archie Pelago – Grenier meets Archie Pelago
02. Rain Dog – Two Words
03. Eno / Hyde – Someday World
04. Aphex Twin – Syro
05. Rumpistol – Away
06. I Break Horses – Chiaroscuro
07. Kishi Bashi – Lighght
08. The Micronaut – Panorama
09. Downliners Sekt – Silent Ascent
10. Yagya – Sleepygirls
Michael's Favorites
01. Teebs – ESTARA
02. Segue – The Here and Now
03. Martyn – The Air Between Words
04. Aphex Twin – Syro
05. Objekt – Flatlands
06. Eno / Hyde – High Life
07. St. Vincent – St. Vincent
08. The Juan Maclean – In a Dream
09. Flying Lotus – You're Dead!
10. Yagya – Sleepygirls
Playlist
Download
12/13/2014