The time has come to present selections from our favorite albums of 2010! After another year of terrific releases, we've collectively assembled two hours of first class beats. This year's show could have easily been four hours long, and sadly, many great tracks were left behind. Regardless, we're sure you'll enjoy this look back on some of the year's best future music!
There were many highlights over the year, and we'd like to thank WCRS for their continued support as well as our listeners in Columbus and abroad!
Below we have included 10 consensus favorites, as well as our individual 20 favorite albums of the year. We encourage you to send us your own favorites and recommendations to dj@beatoracle.net. On New Year's Day we'll be airing part two of our best of 2010 special, and will feature some of our favorite songs from 12" singles, EPs, and albums we couldn't include in this week's episode. Thanks again to our listeners and to all who came out to see us live. Be prepared for more great "future music" in 2011!
Playlist
Download
12/18/2010
10 BEAT ORACLE APPROVED: 2010 Edition (By release date)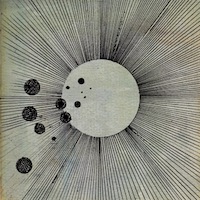 (from top left) Four Tet There Is Love In You, Beach House Teen Dream, Pantha Du Prince Black Noise, Scuba Triangulation, Bonobo Black Sands, Mux Mool Skulltaste, The Radio Dept. Clinging To a Scheme, Flying Lotus Cosmogramma, Ceo White Magic, Gold Panda Lucky Shiner
Honorable Mentions: Caribou – Swim, Oneohtrix Point Never – Returnal, Actress – Splaszh, Mount Kimbie – Crooks & Lovers, Teebs – Ardour, Deepchord Presents Echospace – Liumin
Joseph's Favorite 20 Albums
Actress – Splaszh
Beach House – Teen Dream
Black Dog – Music For Real Airports
Bonobo – Black Sands
Bvdub – The Art of Dying Alone
Deepchord Presents Echospace – Liumin
Four Tet – There Is Love In You
Flying Lotus – Cosmogramma
Chihei Hatakeyama – A Long Journey
Rafael Anton Irisarri – The North Bend
Murralin Lane – Our House Is On the Wall
Pantha Du Prince – Black Noise
The Radio Dept. – Clinging to a Scheme
Christopher Rau – Asper Clouds
John Roberts – Glass Eights
Scuba – Triangulation
Shed – The Traveller
Teebs – Ardour
Tokimonsta – Midnight Menu
Andreya Triana – Lost Where I Belong
Michael's Favorite 20 Albums
Beach House – Teen Dream
Belle and Sebastian – Write About Love
The Black Dog – Music for Real Airports
Blonde Redhead – Penny Sparkle
Bonobo – Black Sands
Caribou – Swim
Deerhunter – Halcyon Digest
Four Tet – There is Love in You
Gold Panda – Lucky Shiner
Goldfrapp – Head First
Lali Puna – Our Inventions
Brian McBride – The Effective Disconnect
Mount Kimbie – Crookes and Lovers
Mux Mool – Skulltaste
Oneohtrix Point Never – Returnal
Pantha du Prince – Black Noise
The Roots – How I Got Over
Shed – The Traveller
Teebs – Ardour
Andreya Triana – Lost Where I Belong
Kenny Lectro's Favorite 20 Albums
Baths – Cerulean
Beach House – Teen Dream
Bonobo – Black Sands
Booka Shade – More!
Broken Bells – Broken Bells
Caribou – Swim
Ceo – White Magic
The Chemical Brothers – Further
Deceptikon – Mythology of the Metropolis
Delphic – Acolyte
Goldfrapp – Head First
John Roberts – Glass Eights
Mount Kimbie – Crooks & Lovers
Mux Mool – Skulltaste
Phantogram – Eyelid Movies
The Russian Futurists – The Weight's On The Wheels
School of Seven Bells – Disconnect from Desire
Underworld – Barking
Xenia Beliayeva – Ever Since
Yeasayer – Odd Blood
Podcast: Play in new window | Download